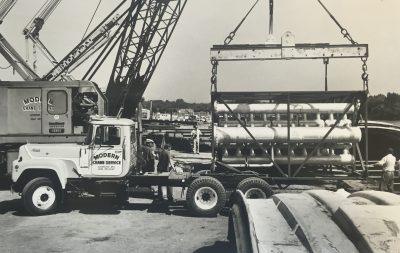 Modern Crane Service, Inc. has been providing high-quality, professional crane services since 1971.  We partner with both small and large customers in a wide variety of industries, but maintain special expertise in the industrial manufacturing sector. The use of state-of-the-art equipment combined with a highly skilled workforce allows Modern Crane Service, Inc. to efficiently and safely handle the building and heavy moving needs of our region.
At Modern Crane Service, Inc. we strive to create long-term customer relationships. Our core values of professionalism, safety, honesty, dependability, and teamwork are the driving force behind our decision making and commitment to providing exceptional crane services.
OUR MISSION
Modern Crane Service, Inc. will fulfill the unique building and heavy moving needs of the Midwest and beyond by utilizing modern equipment and a knowledgeable workforce committed to jobsite safety.
OUR VISION
Modern Crane Service, Inc. will continuously seek improvement in our service offerings while maintaining a leadership role within our industry and community.
OUR VALUES
PROFESSIONALISM
Maintain a company culture that conveys professionalism and respect to customers, vendors, and employees.
SAFETY
Take a proactive approach to risk mitigation and continually seek ways to strengthen our commitment to creating a safe work environment.
HONESTY
Maintain truth in all interactions.
DEPENDABILITY
Ensure maximum effort and attention to detail is given to every project at all times.
TEAMWORK
Create a collaborative, goal-driven environment by sharing knowledge and experience with others.
DISADVANTAGED BUSINESS ENTERPRISE (DBE)
MINORITY BUSINESS ENTERPRISE (MBE)
WOMAN BUSINESS ENTERPRISE (WBE)
WOMAN OWNED SMALL BUSINESS (WSOB)